Young Serif
Glyphs
A
B
C
D
E
F
G
H
I
J
K
L
M
N
O
P
Q
R
S
T
U
V
W
X
Y
Z
a
b
c
d
e
f
g
h
i
j
k
l
m
n
o
p
q
r
s
t
u
v
w
x
y
z
0
1
2
3
4
5
6
7
8
9
À
Á
Â
Ã
Ä
Å
Æ
Ç
È
É
Ê
Ë
Ì
Í
Î
Ï
Ð
Ñ
Ò
Ó
Ô
Õ
Ö
Ø
Œ
Ù
Ú
Û
Ü
Ý
à
á
â
ã
ä
å
æ
ç
è
é
ê
ë
ì
í
î
ï
ð
ñ
ò
ó
ô
õ
ö
ø
ù
ú
û
ü
ý
þ
ÿ
œ
fi
fl
@
÷
×
¡
¢
£
¥
§
¨
ª
«
[
]
¬
¦
©
\
^
/
_
`
²
³
´
¶
·
¸
¹
º
»
¼
½
¾
¿
!
"
#
$
%
?
&
'
(
)
*
+
,
-
.
:
;
<
=
>
ˆ
˜
‒
–
—
'
'
'
"
"
"
•
…
‹
›
€
™
77 Languages supported
afrikaans, albanais, alémanique, allemand, anglais, assou, basque, bemba, béna, bosniaque, capverdien, catalan, chambala, cornique, créole mauricien, croate, danois, diola-fogny, espagnol, estonien, féroïen, filipino, finnois, français, galicien, gallois, ganda, gusii, hongrois, indonésien, irlandais, islandais, italien, kalenjin, kiga, letton, lituanien, luo, machame, makhuwa-meetto, makonde, malais, malgache, maltais, manx, ndébélé du Nord, norvégien bokmål, norvégien nynorsk, nyankolé, oluluyia, oromo, polonais, portugais, romanche, rombo, roumain, roundi, rwa, rwanda, samburu, sangho, sangu, sena, shona, slovaque, slovène, soga, somali, suédois, swahili, swahili du Congo, taita, tchèque, teso, turkmène, vunjo, zoulou
348 Glyphs
Download
Download the family, the zip folder contains the font files as TrueType (.ttf), OpenType (.otf) and other web formats (.woff, .woff2, .svg, .eot), the SIL Open Font Licence, and the sources as Unified Font Object (UFO).
The OFL ( the SIL Open Font License ) allows the licensed fonts to be used, studied, modified and redistributed freely as long as they are not sold by themselves.
For more infos, this license goes with the zipped folder.
In use
Tumblr — liqueurensanglantee.tumblr.com - Curated by Esteban Gonzalez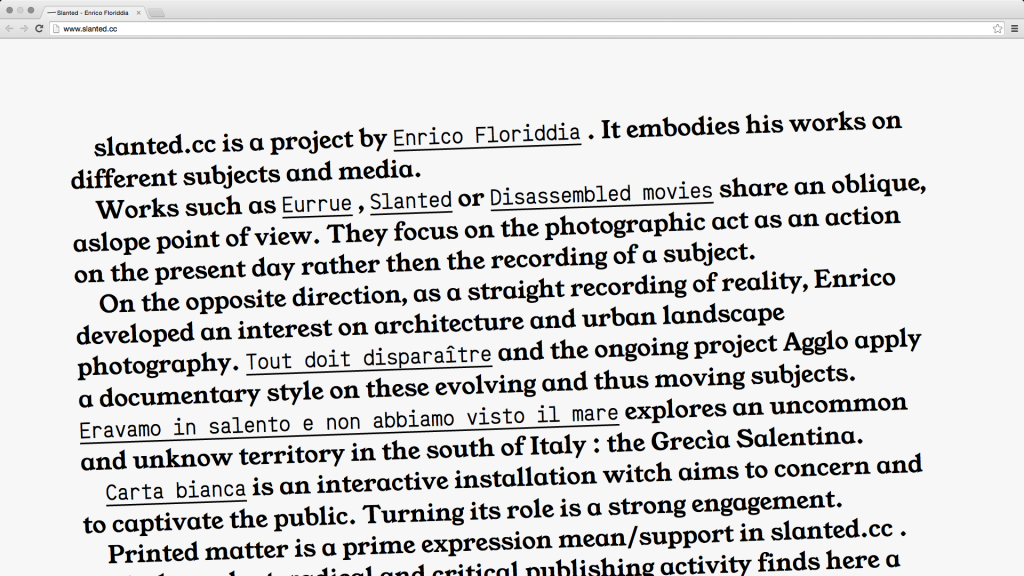 Website — Creative Commons License Enrico Floriddia - Web design: Raphaël Bastide
Book — Nolime Tangere - © Le Megot